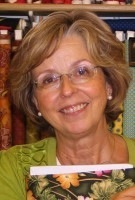 Dawn has been quilting for 41 years and teaching for 30 years. She is a very traditional quilter so you will be more likely to find her quilts on beds rather than walls.
Her signature technique Invisible Machine Quilting (IMA) allows you to produce hand looking applique completely on your machine without the use of bonding products or satin stitch. It must be seen to be believed!
That being said Dawn also offers workshops in hand and machine quilting, hand and machine applique,   and several project classes where you make specific quilts of your choice. Her knowledge of threads, and sewing needles is amazing.
Dawns classes are known for being encouraging,informative and whats more fun!
Dawn has published several books but her latest 'The Pocket Tutor' is available now, only £15 contact her for details.
Visit her website: [email protected]
Courses: